Star Hostel supports local talents and businesses.
At Star Hostel, you can start from hand brewed coffee in the morning to home made dessert in the afternoon,
and end your night with a nice locally grown draft beer.
Each shop comes with their own story to share.
Check out their information and their opening time down below.
EAVES COFFEE
The owner's thought is simple — to share great coffee with everyone. This thought then leads to the start of Eaves Coffee. He shares his love of coffee with travelers around the world.
Opening time:
Random Saturdays (please check fan page)

Location: Star Hostel Lounge & Lobby

ALECHEMIST
Every Alechemist beer starts at the farm, and brewed locally. With thorough knowledge of each ingredient, we brew our beers in a way that best our beers in a way that best feature the flavor of our Taiwanese agricultural produce. Crafting a truly local beer that is unlike any other.
Opening time:
Everyday 9PM - 12AM

Location: Star Hostel Cafe

SWEET BITES LAB
Kayla's famous mouth watering matcha pudding is to die for. With a passion for dessert, Kayla became a well known patissier on social media and among our guests. However, you will need to pre-order in advanced. If you like to pre-order desserts, please message her fan page directly.
Opening time:
Check Fan page

Location: Star Hostel Lounge

Show the room key to the local shops as below and you will get SPECIAL OFFERS
'Crispy pastry pockets filled with juicy pork that's infused with the aromatic bite of black pepper baked in coal-fired brick oven.'
*Free delivery to Star Hostel
'Stinky tofu is a very unique and popular street food in Taiwan, which has a highly strong smell. However, it's an experience that every tourist must try at least once.'
*$10 discount for stinky tofu / $5 discount for cold noodles
Handmade Pork Pie / Chive Pockets
'Pork pie is a hand-held pie, the crispy dough paired with juicy pork filling. Chive pocket filled with chopped Chinese chive, scrambled eggs and mung bean noodles.'
*free soybean milk if you spend more than $100
Traditional Shaved Ice and Vegan Vermicelli
'Try the very local vermicelli and a bowl of traditional shaved ice in the hot weather!'
*10% off if you spend more than $150
'Scallion pancake have an excellent texture with both crispy and soft taste. You can ask adding basil to have more flavorful.'
Huayin Street Taiyuan Road intersection
*$5 discount for each scallion pancake
'Various dishes you can choose between, make yourself a delicious hot pot.'
*5% off
'Superb coffee, tucked away within the local market, a real local neighbourhood small cafe style.'
No.13, Lane 220, Chang'an West Road
*10% off for daily, single, origin coffee. *10% off for 5 drip bag coffee
Single & Double Eyelid
Brunch Restaurant
'Cozy place that you can enjoy brunch.'
*10% off
'Great cafe with delicious scones.'
*$10 discount for all drinks
'Kinds of Taiwanese traditional noodles and soup. They also sell some side dished.'
*Free spicy cold shredded / dried tofu if you order noodles or rice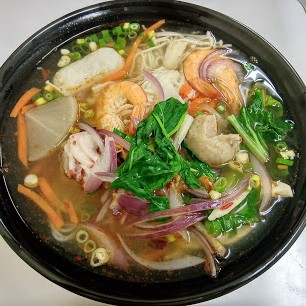 'The Vietnamese lady homemade really good pho and spring rolls.'
*10% off
'It provides various Chinese cuisine including fried rice and all kinds of noodles with a cheap price.'
*5% off if you spend more than $100
Jin-Chuang Handmade Bento
'Fresh Taiwanese Bento and soup.'
*Order bento with soup get $5 discount
'American / Mexican food. Burger, fries, taco.'
*Free taiwan beer or A&W root beer if you order Oldies burger
'Hand-made fruits vinegar and tea.'
*$5 discount if the drinks over $40. Dried food $50 discount
Mentor Hair Salon - Chang'an Branch
*Hair wash + Head Massage $699
( with essential oil is additional $100 )
*10% off on hair wash, cut, perm or treatment
'Established in 1898. Sells different kinds of tea and tea pots as well.'
*10% off all teas & gifts